Ricardo "El holandés"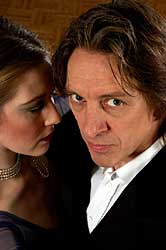 with Rotraut
Teaching
Ricardo teach since 1990.
Tango de salón he learned by dancing in the Dance salóns (milongas) in the 14 years he lived in Buenos Aires. He took classes with "grandes maestros"like Rodolfo Dinzel, Antonio Todaro, Eduardo Arquimbau, Roberto "El alemán" Thonet, Cacho Montegassa and others. Since 2003 he gives lessons with Rotraut Rumbaum.
Official homepage of Ricardo y Rotraut: www.tango-argentino.info
Tango classes in courses and workshops.
Tango de Salón and choreography.
Lessons with Rotraut in Germany, Buenos Aires, Holland, Italy etc.
Over 40 tangotravels (tango holidays) with Tangotours, IBP, etc Schauspiel.de etc, to Italy, France, Greece, Spain and Germany and so on.
Ricardo in facebook




Lectures
VHS Giessen, Ac. Tango de Frankfurt

Choreography
Choreography for theater, ("Taxi Vinyl", Rumania) Galas / Events (Mercedes Benz, Sparkasse, etc.)

Productions
Tango opera "Orestes last tango":
Intern. World, music and theater festival Holland, Holland performances in Belgium and in Buenos Aires at Teatro Avenida for Buenos Aires Lírica
5 Instructional DVDs: Tango de Salón I and II, Fantasía de Tango, Milonga and Vals.

TV
2009 "Het derde testament" (start at 16:00min) TV Holland


1988 - 2002 "Ricardo y Nicole"
Together with Nicole Nau, dance partner from 1988 to 2002, Ricardo lived in Buenos Aires performed and teached in Buenos Aires. RyN toured all over the world. Their artistic name was "Ricardo y Nicole".
They teached in their own dancestudio in San Telmo at the Plaza Dorrego.
They choreographed several shows and produced the tango opera "Orestes last tango".


In 2001, they are shown on 2 argentine stamps:
Productions / own shows
1999-2001 "Orestes last tango" tango opera by Betty Gambart and Diego Vila, with among others Julia Zenko, Carlos Vittori, Rodolfo Valss, Susana Moncayo
1998-1999 "Tango Total" with Color Tango, 3 dance couples and 2 singers
1998 "Tango Tango Tango Variety in cooperation with the Kristalpalast Variety
1995 "Mas que nunca Tango" Carlos Buono and his Sextet Raúl Lavíe
1993 "Tango para mirar" with Walter Ríos Quinteto and singer Raúl Lavíe

Shows in Buenos Aires
Appearances in milongas to Club Sunderland, Sin Rumbo, l'Akkarense, Villa Malcolm, Los de 40, Glorias Argentinas, Club Almagro, Confiterá Ideal etc.
"Marathon" Teatro Colon, Director Jaime Kogan
"Cumbre de Tango" CCTSM
"Pacto de Tango" Café Homero with Raúl Lavie, Rubén Juárez y Roberto "Polaco" Goyeneche,
"Piazzolla Ferrer y el homenaje" with Horacio Ferrer, Raúl Lavie, el octeto electronico de Daniel Piazzolla
"34.Festival de Cosquín"
"Festival de Villa Allende", with Susana Rinaldi
"Los Grandes de Hoy" with Horacio Ferrer, and Héctor Stamponi

Café Homero, Señor Tango, Tango Mio, Casablanca, El Viejo Almacén, Michelangelo, el Club del Vino, Club Libanon, etc
junto a artistas como Horacio Ferrer, Rubén Juárez, Raúl Lavie, Roberto "Polaco" Goyeneche, Horacio Salgan, O. Berlingeri, Alberto Morán, José Colángelo, Néstor Marconi, Luis Cardei, Adriana Varela, etc

Shows in other countries
Germany: Bonner Press Ball, "Tigerpalast" Frankfurt, "GOP" Hannover, "Kristalpalast" Leipzig, "Traumtänzer" Kassel
Sweden: Tango! Sweden with Dala Sinfonietta
Turkmenistan: for B.Jetzin Butto, and all presidents of the former USSR
Paraguay: Asunción for the Embassy of Argentina with Rubén Juárez
Japan: "Tango 97" tour with Carlitos Yoneyama y su orquesta tipica, Yoichi Sugawara
Bolivia: "Lo mejor del Tango Argentino" La Paz, with Néstor Marconi
Spain: "Festival Internacional de Tango de Granada" (2x), with Néstor Marconi, O. Berlingeri
Chile: "Tango Mío" Santiago de Chile, Fernando Soler
Switserland: "Ideé Varieté" Zúrich.

Film / TV
Argentina: documentation "Ricardo y Nicole, a story desTangos" 1992, 60 min
Appearance in films "Espiando á Marina", "Comiquisima"
Appearances and interviews in over 50 TV shows in Argentina:
for President Menem, Omar Sharif, Bernardo Neustadt, Lucio Dalla, Marcelo and Victor Hugo Morales Mastroiani "Tiempo Nuevo", "360",

"Solo Tango", Canal 7, ATC, América TV, Canal 13, Canal 9, Volver etc.
Japan: NHK
Germany: "Aktuelle Schaubude" N3, "Winter Evening" N3, "Frau TV" WDR, "Night Café" SW3 "Bulthaupt in BsAs" MDR, "Dream dancer" HR 3, Voxtours, "DAS", "DAS at the station" NDR,
Holland: "Grensverleggers" NCRV, KRO
Chile: "Martes 13"

Awards
Ricardo y Nicole received the 1993 COMFER award of the Republic Argentina.

Commercials
Eneco Energy, TV channel "Volver", Cuatro (Coca-Cola)

Books / Videos / CDs
1999-2000 book "Tango Dimensionen" Publisher Kastell Munich.
"Tango, un baile bien porteño" Corrigidor Publisher Buenos Aires.
1997-1998 "Curso de Tango" 1st series video tutorials: Tango I, II and Tango Milonga
Ricardo y Nicole on over 25 CD covers and illustrated several of Books

Ricardo founded his editorial "El Holandés" and published:
in "Viva el Tango" (Issue of the National Academy of Tango)
Tango guide "El Compadrito" and "La Milonguita"
about 20 postcards, 4 VHS videos and 2 CDs.

Newspapers / Magazines of Ricardo y Nicole:
Argentina: La Nación, La Nacion 2, La Nacion (opera), La Nacion 3, La Nacion 4, Tiempo del Mundo, el Clarin, Pagina 12, Buenos Aires Herald, La Razón
USA.: National Geographic: photo by Stuart Franklin
Germany: Geo, Gala, Stern, Brigitte, Focus, Freundin, Holyday, bordbuch Lufthansa, FAZ, Süddeutsche Zeitung, Die Zeit, Boletin del Tango 5 , Boletin del Tango 26, Tango Danza
Holland: De Telegraaf, Algemeen Dagblad, gids VPRO, gids KRO, Carp